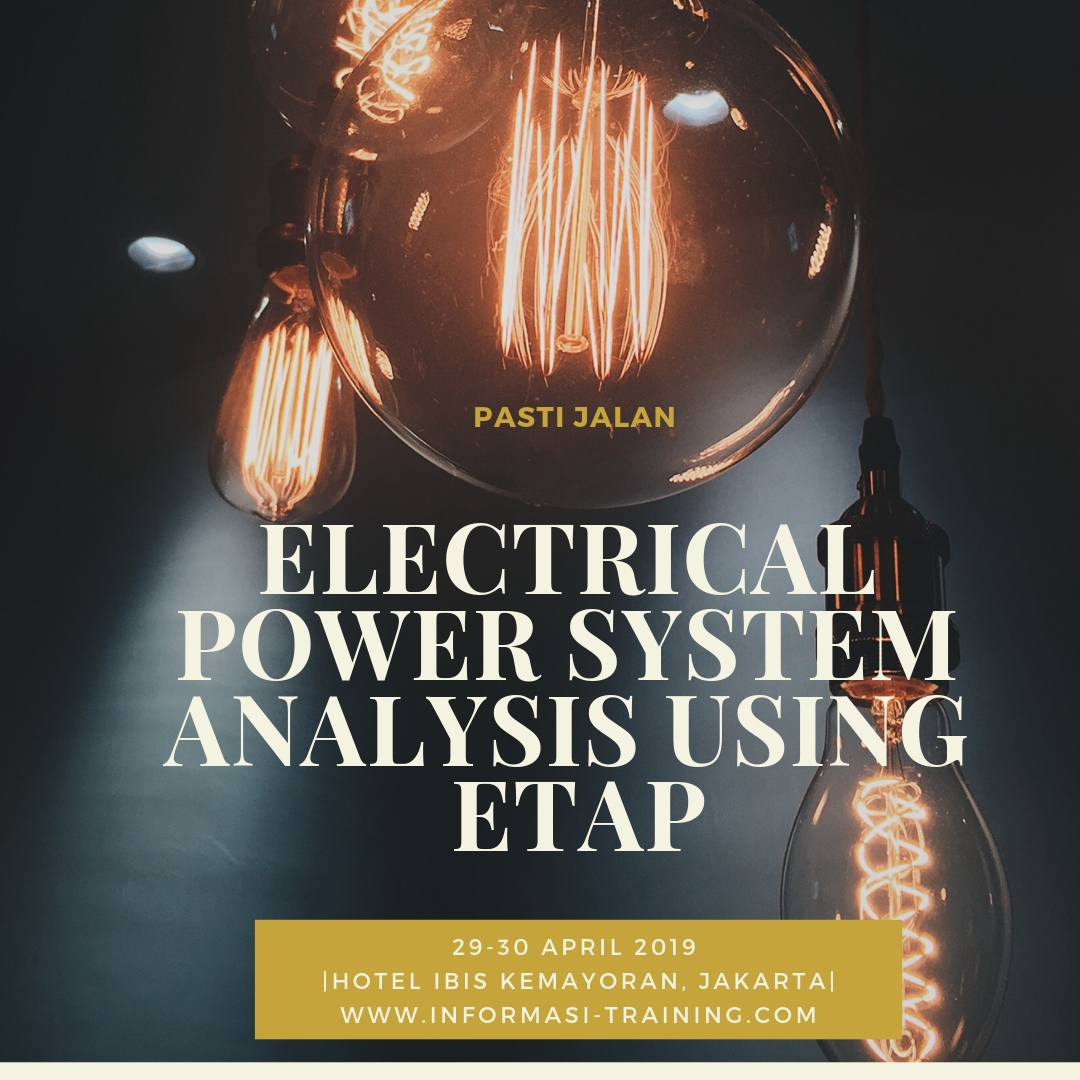 Training Electrical Power System Analysis ini memberikan keterampilan, pengetahuan & teknik untuk menjadi ahli dalam ETAP untuk melakukan permodelan analisis
Yogyakarta/ Semarang/ Solo | 20 – 21 Januari 2020 | Rp. 6.900.000
Bali/ Batam/ Balikpapan/ Manado/ Lombok | 27 – 28 Januari 2020 | Rp. 8.900.000
Hotel 101 Dago, Bandung | 03 – 04 Februari 2020 | Rp. 7.900.000 – RUN
Jadwal Training 2020 Selanjutnya …
Deskripsi Training Electrical Power System Analysis Using ETAP
Pelatihan ini ditujukan untuk ahli listrik, operator sistem, Engineering untuk memperkenalkan dasar – dasar Transmisi dan Distribusi menggunakan ETAP. Pelatihan ini memberikan keterampilan, pengetahuan, dan teknik yang diperlukan untuk menjadi ahli dalam ETAP untuk melakukan permodelan analisis.
Tujuan Training Electrical Power System Analysis Using ETAP
Pelatihan ini bertujuan memberikan keterampilan, pengetahuan yang menyeluruh tentang ETAP dan teknik analisis untuk memecahkan berbagai masalah dalam pratek.
Materi Training Electrical Power System Analysis Using ETAP
Building One-Line Diagram Using ETAP. (Add Elements, Select & Deselect Elements, Element and Connector Colors, Relocate Elements, Cut, Copy, & Paste, Size, Symbol, & Orientation, Protective Devices, Nodes & Buses, Group & Ungroup, Composite Networks)
Load Flow Calculation Methods. (Newton-Raphson, Fast-Decoupled, Gaus-Siedel)
Load Flow Study Using ETAP. (Load Flow Toolbar, Load Flow Study Case Editor, Load Flow Display Options, Load Flow Calculation Methods, Load Flow Required Data, Load Flow Output Reports)
Fault Calculation Methods. (Impedance Methode, Symetrical Component Methode)
Short-Circuit Analysis. (Short-Circuit Toolbar, Short-Circuit Study Case Editor, Short-Circuit Display Options, Short-Circuit Required Data, Short-Circuit Output Reports)
Motor Starting Analysis. (Motor Starting Methods, Motor Starting Calculation)
Motor Starting Analysis Using

ETAP

. (Motor Starting Toolbar, Motor Starting Study Case Editor, Info Page, Model Page, Time Event Pages, Add Action by Starting Category, Add Action by Load, Motor Starting Display Options, Motor Starting Calculation Methods, Motor Starting Required Data, Motor Starting Output Reports, Motor Starting Time Slider Toolbar)
Transient Stability Anaysis. (Purpose for Performing Transient Stability Study, Power System Stability Definition, Stability Limits)
Transient Stability Anaysis Using ETAP. (Transient Stability Toolbar, Transient Stability Study Case Editor, Info Page, Events Page, Dyn Model Page, Transient Stability Plots, Transient Stability Required Data, Transient Stability Output Reports, Transient Stability Time Slider Toolbar)
Harmonic Analysis. (Definition, Harmonic Parameters, Harmonic Sources)
Harmonic Analysis Using ETAP. (Harmonic Analysis Toolbar, Harmonic Analysis Study Case Editor, Harmonic Analysis Display Options, Harmonic Analysis Calculation Methods, Harmonic Analysis Required Data, Harmonic Analysis Output Reports, Harmonic Analysis Order-Slider, Harmonic Analysis Frequency-Slider)
Case and Study
Peserta Training
Para Operator, Teknisi, Engineer dan Supervisor yang ingin memahami dan meningkatkan pengetahuan dalam melakukan analisa system tenaga.
Metode  Training
Presentasi, diskusi, studi kasus
Hotel Santika Kuta, Bali
Hotel Nagoya Plaza, Batam
Hotel Fave, Balikpapan
Hotel Aston, Manado
Hotel Lombok Raya, Mataram
Hotel Serela Merdeka, Bandung
Hotel Santika Pandegiling, Surabaya
Sofyan Hotel Betawi, Jakarta
Hotel Ibis Solo
Hotel Ibis Simpang Lima, Semarang
Hotel Ibis Malioboro, Yogyakarta
20 – 21 Januari 2020
27 – 28 Januari 2020
3 – 4 Februari 2020
10 – 11 Februari 2020
17 – 18 Februari 2020
26 – 27 Februari 2020
2 – 3 Maret 2020
9 – 10 Maret 2020
16 – 17 Maret 2020
23 – 24 Maret 2020
30 – 31 Maret 2020
6 – 7 April 2020
13 – 14 April 2020
20 – 21 April 2020
27 – 28 April 2020
4 – 5 Mei 2020
11 – 12 Mei 2020
2 – 3 Juni 2020
8 – 9 Juni 2020
15 – 16 Juni 2020
22 – 23 Juni 2020
29 – 30 Juni 2020
6 – 7 Juli 2020
13 – 14 Juli 2020
20 – 21 Juli 2020
27 – 28 Juli 2020
3 – 4 Agustus 2020
10 – 11 Agustus 2020
18 – 19 Agustus 2020
24 – 25 Agustus 2020
31 Agustus 2020 – 1 September 2020
7 – 8 Sepember 2020
14 – 15 September 2020
21 – 22 September 2020
28 – 29 September 2020
5 – 6 Oktober 2020
12 – 13 Oktober 2020
19 – 20 Oktober 2020
26 – 27 Oktober 2020
2 – 3 November 2020
9 – 10 November 2020
16 – 17 November 2020
23 – 24 November 2020
30 November 2020 – 1 Desember 2020
7 – 8 Desember 2020
14 – 15 Desember 2020
21 – 22 Desember 2020
28 – 29 Desember 2020
Investasi dan Fasilitas
8.900.000 (Non Residential) untuk lokasi di Bali, Batam, Balikpapan, Manado atau Lombok
7.900.000 (Non Residential) untuk lokasi di Bandung, Jakarta atau Surabaya
6.900.000 (Non Residential) untuk Lokasi Solo, Semarang atau Yogyakarta
Quota minimum 2 peserta
Quota minimum 3 peserta ( Untuk Manado, Balikpapan dan Lombok Quota minimal 4 peserta)
Fasilitas : Certificate,Training kits, USB,Lunch,Coffe Break, Souvenir
Untuk peserta luar kota disediakan transportasi antar-jemput dari Bandara/Stasiun ke Hotel khusus bagi perusahaan yang mengirimkan minimal 3 orang peserta)
Tugino , ST,MT &Tim
ELECTRICAL POWER SYSTEM ANALYSIS USING ETAP