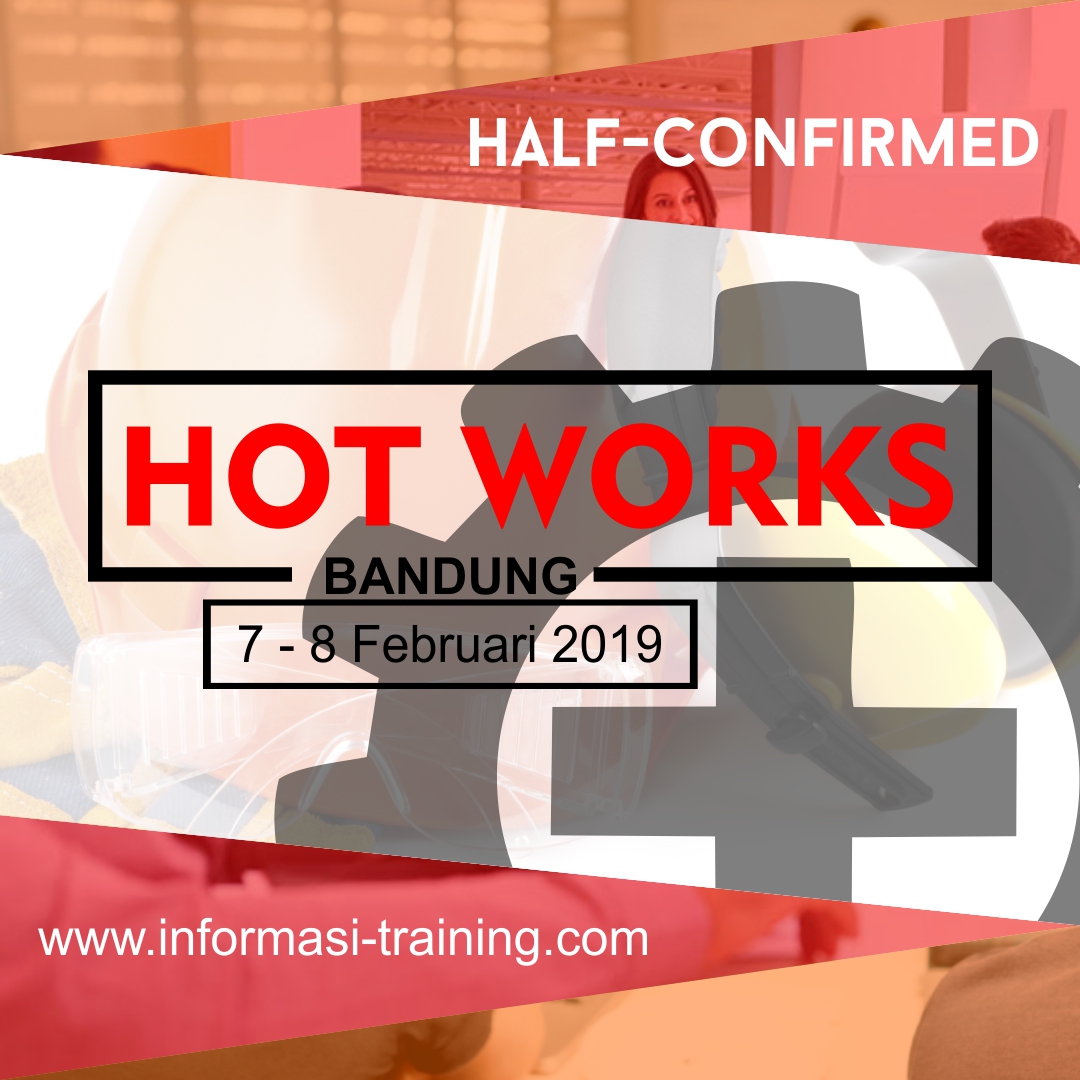 HOT WORKS
Bandung | 07 – 08 Februari 2019 | Rp 4.500.000/ peserta – ALMOST RUNNING
Bandung | 06 – 08 Maret 2019 | Rp 6.750.000/ peserta 
Bandung | 03 – 05 April 2019 | Rp 6.750.000/ peserta
Bandung | 27 – 29 Mei 2019 | Rp 6.750.000/ peserta 
Jadwal Training 2019 Selanjutnya …


TRAINING INTRODUCTION/ BACKGROUND

There were many lost-time and fatality accidents during hot work jobs especially in oil/gas exploration and production activities. The accident causes were various such as human factors (inadequate knowledge, skill and training, etc.), job factors (inadequate supervision, procedures and proper equipment, etc.) and lack of management (inadequate HSE program, program standards and compliance to program standards, etc.). By attending and implementing consistently the contents of this training course, the above accidents can be prevented.
TRAINING OBJECTIVES AND BENEFITS
After attending this interesting and valuable training course, the participants will be able to
Know, understand and implement the Basic Principles of Loss Control management
Conduct or perform

hot work

jobs without harm/injury/damage to PEME (People, Equipment, Materials & Environment)
Know, understand and prepare all requirements before, during and after hot work jobs.
HOT WORK TRAINING OUTLINES
Introduction and Background/History/Statistics of the Fatality Accidents due to Hot Work Jobs
Introduction to Basic Principles of Loss Control Management
Introduction to Hot Work Jobs (Definition, Purposes, Personnel Qualification, etc.)
Basic Theory & Application of Fire Prevention and Fire Control
Hot Work Permit and Other Work Permits
Hot Work Allied Equipment
Standard Operating Procedure (SOP) for Various Hot Work Jobs, such as :

Hot-Tapping Jobs at Flammable Fluid Storage Tanks
Hot-Tapping Jobs at Flammable Fluid Flow Lines & Pipe Lines
Hot-Tapping Jobs at Flammable Fluid Equipment & Pressure Vessels (Separators, Heater Treaters, Free Water Knock Outs, Gas Boots/Gas Scrubber/Gas Dryer,etc.)
Storage Tank Cleaning, Ventilation and Repairing
Other Oil/Gas Wells Drilling, Production and Maintenance/Service Activities

Basic Knowledge of HSE Aspects in Welding and Cutting Jobs
Introduction to Job Safety Analysis (JSA)
Display of Hot Work Jobs Films/VCD
Case Study (One Case Study/Day/Group or 5 course participants, each group has to conduct presentation in front of class and will be discussed with other groups)
Pre-Course Assessment (Pre-Test) ; Post-Course Assessment (Post-Test)
Summary and Evaluation of Training Course


WHO SHOULD ATTEND

Technicians, Welders, Group Leaders/Foremen, Supervisors, Authorized Work Permit Issuers from Drilling Department, Production Department, Maintenance Department, Welding & Fabrication Department, HSE/SHE/EHS/HES/K3LL Department, Construction Department and whoever to be involved in hot work jobs.
INSTRUCTOR HOT WORK TRAINING
Ir. Didi Sugandi, Bc.M.
Petroleum Engineer, 40 years (1970-2010) 'hands-on' work experience in Oil/Gas/Geothermal Exploration & Production Companies (Stanvac Pendopo South Sumatera, Huffco/Vico East Kalimantan, Karaha Bodas Company/KBC Garut West Java, Sumitomo Corp. Pangalengan West Java, JOB Pertamina-Gulf Jambi) in various departments (Production, HRD, HSE) include 1 (one) month (1983) as Flopetrol Production Well Testing Trainee in Total Indonesie (Offshore Oil/Gas Company) Handil Field East Kalimantan and 6 months (1996) as HSE Consultant at Lasmo Oil PLC Malacca Strait (Offshore Oil/Gas Company) and 7 years (2003-2010) as HSE Consultant/Auditor/Trainer of PT Surveyor Indonesia in Drilling and Completion Dept. PT Caltex/Chevron Pacific Indonesia (CPI) Sumatera Operations Area. He has also 18 years experience (1992-2010) as a Petroleum, HSE, Human Resources & Security Trainer both In-House and Public Trainings.
VENUE 
Kagum Group Hotel Bandung (Golden Flower, Banana Inn, Serela, Gino Feruci), Amaroossa Hotel, Noor Hotel, Grand Setiabudi Hotel, dlL.
TRAINING DURATION 
3 days
06 Feb 2019-07 Feb 2019
06 Mar 2019-08 Mar 2019
03 Apr 2019-05 Apr 2019
27 Mei 2019-29 Mei 2019
17 Jun 2019-19 Jun 2019
08 Jul 2019-10 Jul 2019
07 Agust 2019-09 Agust 2019
04 Sep 2019-06 Sep 2019
07 Okt 2019-09 Okt 2019
06 Nop 2019-08 Nop 2019
11 Des 2019-13 Des 2019
INVESTATION PRICE/PERSON
Rp 6.750.000/person (full fare) or
Rp 6.500.000/person (early bird, payment 1 week before training) or
Rp 6.250.000/person (if there are 3 or more participants from the same company)
FACILITIES FOR PARTICIPANTS
Training Module
Training CD Contains Training Material
Certificate
Stationeries: NoteBook and Ballpoint
Jacket or Waistcoat or T-Shirt
Bag or Backpackers
Training Photo
Training Room with Full AC Facilities and multimedia
Once lunch and twice coffeebreak every day of training
Qualified and experienced instructor
Transportation for participants from hotel of participants to/from venue of training(if minimal number of participants from one company is 4 persons)